Dartmouth Pre 1860
Please visit the Dartmouth Museum Page for more information.
Before 1066 no town existed on the site of modern Dartmouth, only the small village of Townstal at the top of the hill with the church of St. Clement's. After the Normans arrived they soon realised the value of this safe harbour for cross-Channel voyages, and by the l2th century it had become a port well enough known for supplying ships to become the assembly point for the European fleet setting off for both the 2nd and 3rd Crusades.
Foss Street began in the 13th century as a dam across a creek to power a tidal mill. Here it is seen in an early 20th century painting by Henry Wimbush.
The French rulers also brought new technology: they built a dam - the modern Foss Street - across the tidal creek to power two tidal grain mills and incidentally joined together the two villages of Hardness and Clifton which form the modern town.
The Dartmouth Corporation seal on its Royal Charter granted by Edward III in 1341, shows the King in a typical merchant cog of the 14th century.
The Kings of England held lands in France, and by the l4th century the Dartmouth merchants were growing rich in the Bordeaux wine trade. As a reward for supplying him with ships of war in many campaigns, the king in 1341 gave the town a royal charter with a self governing corporation whose coat of arms shows a ship with the King's head. In 1372 St. Saviour's Church was consecrated and became the town church, to save the long walk up to Townstal.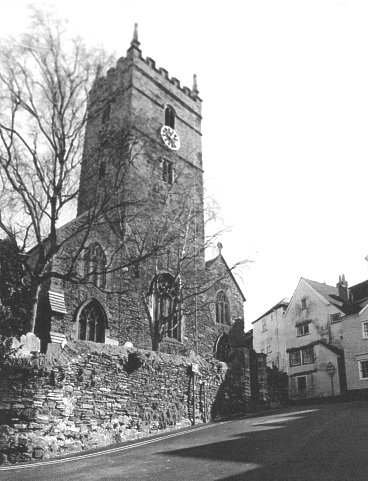 St Saviour's Church, consecrated in 1372. In the chancel lies the tomb of John Hawley. In 1373 the poet Chaucer visited the town, and much later wrote of a "Shipman of Dartmouth," one of the pilgrims in the Canterbury Tales.
The Shipman was a skilled sailor, but also a pirate - the local seamen were notorious.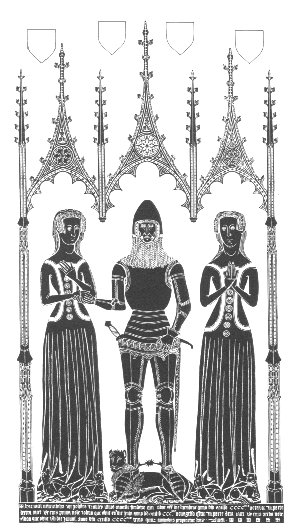 Brass rubbing of John Hawley, fourteen times Mayor and builder of the first Dartmouth Castle.
During the Hundred years war with France the danger of attacks from across the Channel led the King to order the leading merchant and Mayor John Hawley to build the first castle at the mouth of the town, completed around 1400, with a chain across the river to Godmerock on the Kingswear side to stop enemy ships.
An artist's impression of Hawley's castle. When a strong Breton force landed at Slapton in I404 hoping to capture Dartmouth, Hawley organised an army of peasants, which defeated the well-armed knights at the Battle of Blackpool Sands.
Hawley's brass lies in St. Saviour's church in the chancel which he built, and after his death his house was used as the borough Guildhall for nearly 400 years. Sadly, the Bordeaux wine trade ended with the loss of England's French lands.